To download the catalogs, you need to register as a member only for the first time.
If you register as a member, you will be able to download the catalogs. Please save your e-mail address and password in your browser.

Although it is a Japanese catalog, it also has an English translation.
We can also prepare specifications for each product, so please contact us.


RF Coaxial connectors Catalog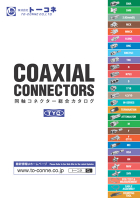 We carry a wide selection of microwave parts, RF parts, cables and connectors. We continue to develop and achieve for higher frequencies, with better designs to respond to the evolving market demands.
Categories
ー
ー
ー
ー
ー
ー
ー
ー
ー